When you log in to the app, the default homepage view is the Dashboard.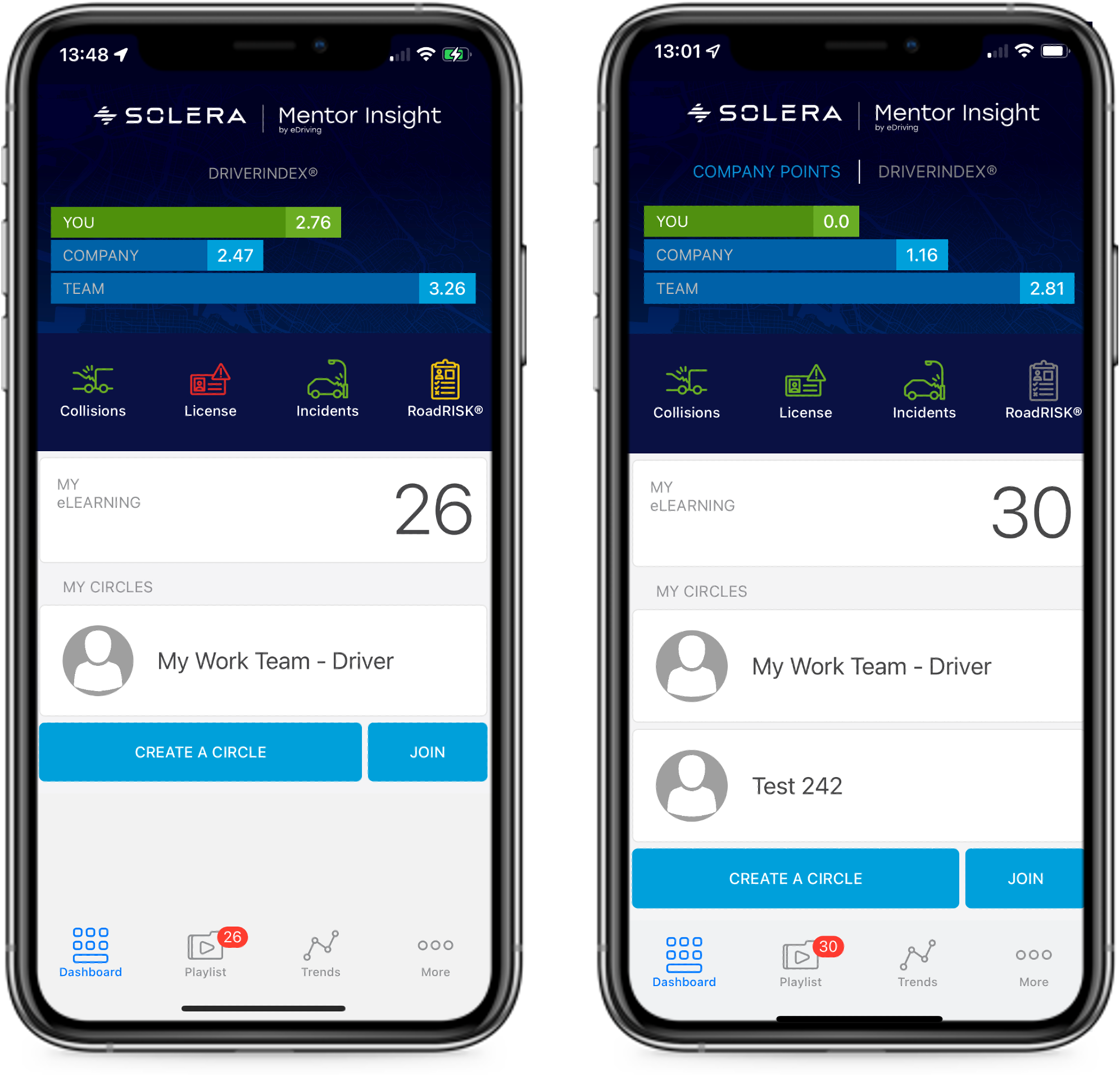 If your company uses Company Points as preferred Risk scoring, the app's default view will show the Dashboard statistics in Company Points. Users may choose to switch to DriverINDEX® at any point by tapping DriverINDEX® on top of the Dashboard scores. However, the app will always default to Company Points, when available. If Company Points are not available, default view will be DriverINDEX®.
Top of Dashboard (Bar Graph):
Leaderboard shows your Company Points / DriverINDEX® Score compared to your organization's and team's average scores. You will see 3 bars:
YOU: Your overall Company Points / DriverINDEX® Score
ORG: Your organization's average Company Points / DriverINDEX® Score (overall organization/company)
TEAM: Your team's average Company Points / DriverINDEX® Score (defined by your organization, but likely an average score of those drivers that report to the same manager)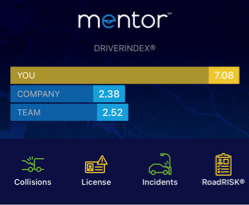 Middle of Dashboard (Ribbon Categories)
The ribbon below shows your performance across scoring categories using color coded ratings of green, yellow, and red.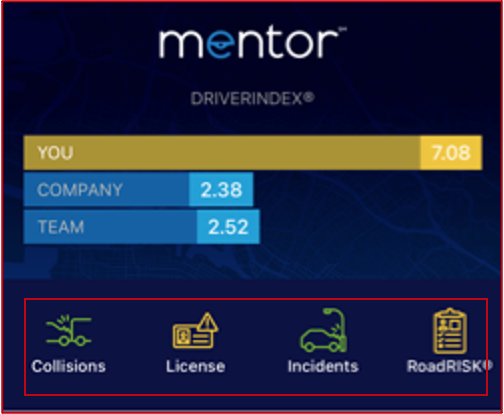 Scoring categories include:
Collisions
License Violations
Incidents
RoadRISK®
Bottom Half of App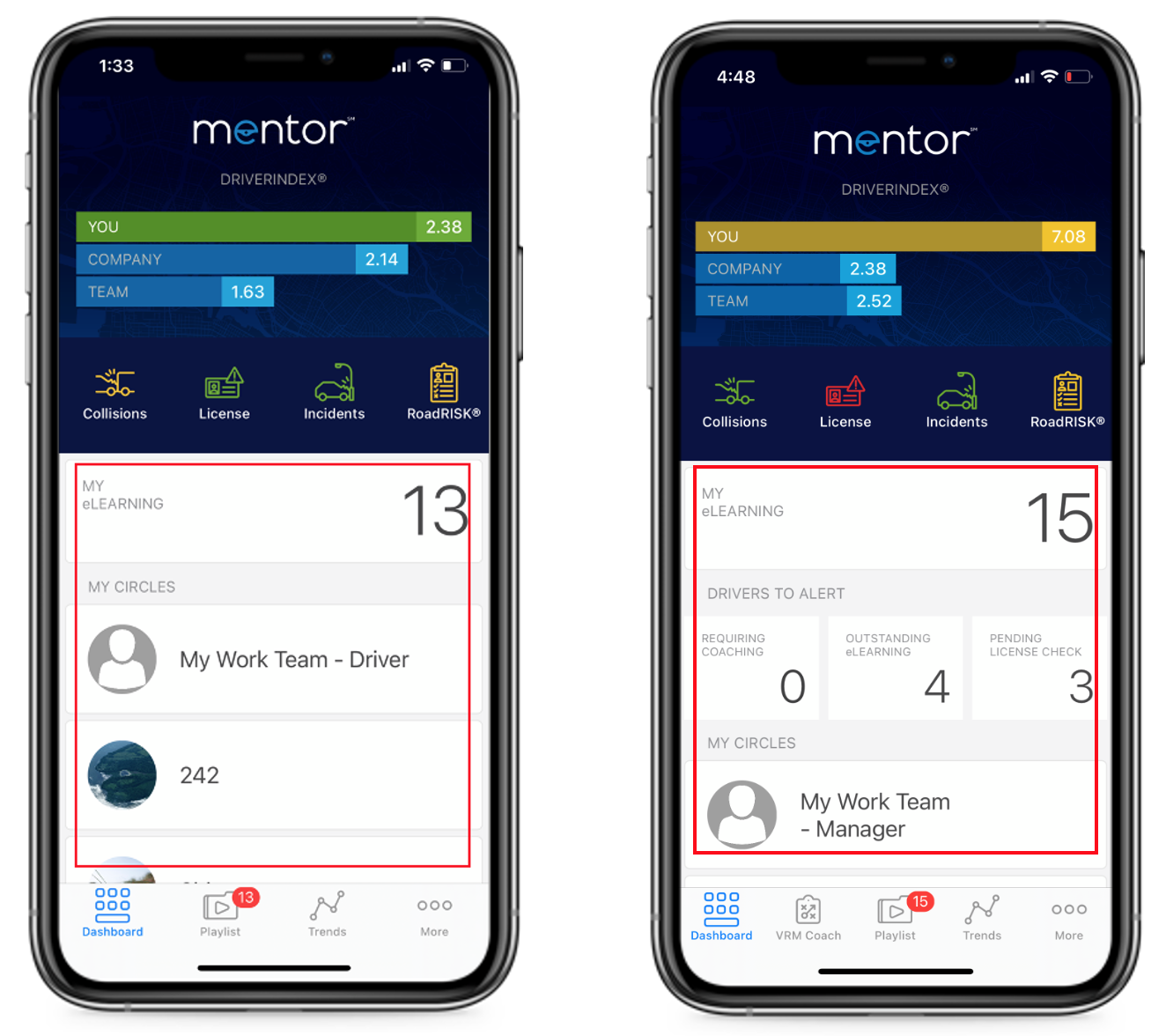 Drivers to Alert (Manager-only): This section shows the count of your direct report drivers who require coaching, have outstanding eLearning modules to complete, or have no valid license check. Tap on the boxes to see detailed list of drivers in each category.
My eLearning:Total number of your outstanding coaching modules. Tap on the "My eLearning" info box to view your list of assigned and completed coaching modules. Tap on a module to take it any time (except while driving). Progress is saved and completed modules are available to retake as well.
Circles:The Circles feature in Mentor allows managers and their drivers, as well as employees from across the organization, to form teams or "Circles" with each other to securely share driving data and supportive messages and emojis.