The default screen is the Dashboard. There will be no data displayed until you have taken your first trip. Once you have taken one or more trips, the Dashboard and related screens will contain the following data:
Top Half of App (Bar Graph):
Trips, Miles, and Hours represent total trips taken, and miles and hours driven since beginning to use Mentor
Leaderboard

YOU: Your overall FICO® Safe Driving Score – a score that reflects a rolling average of trip scores across the most recent 7 days. This score reflects your driving performance in all five areas – Acceleration, Braking, Cornering, Speeding, and Distraction – on a scale of 100-850.
ORG: Your organization's average score (overall organization/company).
TEAM: Your team's average score (defined by your organization, but likely an average score of those drivers that report to the same manager).
TOP 10%: The average score for the Top 10% of the drivers within your company.
You can tap on the graph to see a breakdown of score ranges and your progress towards the 850-point goal.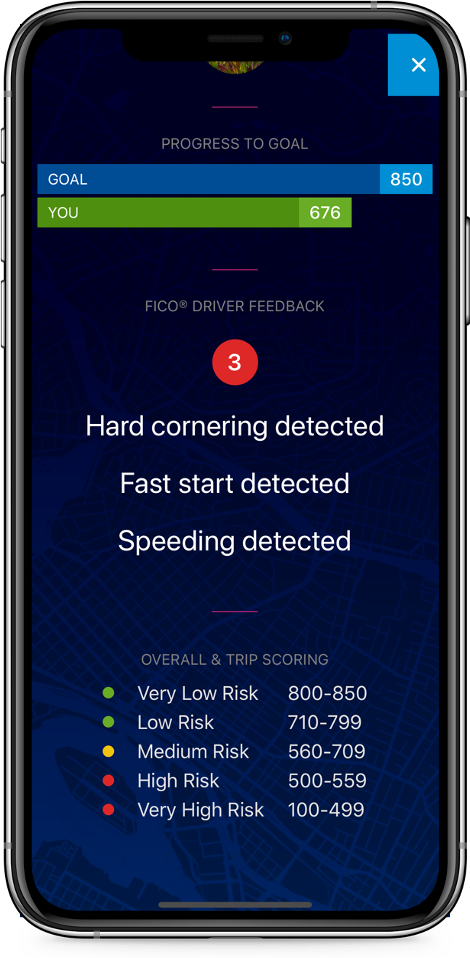 Middle Portion of App (Ribbon)
This section provides specific feedback regarding how well you are performing across individual driver behavior categories using a rating of Low Risk, Medium Risk, and High Risk:
Swipe left and swipe right to see all the icons:
Overall FICO® Safe Driving Score
Acceleration
Braking
Cornering
Distraction- Phone use of any kind (i.e., texting, placing/receiving phone calls, and interacting with the phone while driving)
Speeding
Bottom Half of App
Last Trip: Rating score for the most recent trip taken (tap on this to see trip details). Ratings are on a 5-point qualitative scale: Very Low Risk (

★★★★★)

, Low Risk (

★★★★

), Medium Risk (

★★★

), High Risk (

★★

), and Very High Risk (

★

).
Coaching Playlist: Overall number of coaching modules assigned to you that are not yet complete. Tap on the "Coaching Playlist" number to view your list of New and Complete coaching modules, or watch any of the coaching modules.
Circles: The Circles feature in Mentor allows you to establish or join a group of co-workers with whom you want to share your FICO® Safe Driving Score and other Mentor driving performance data.