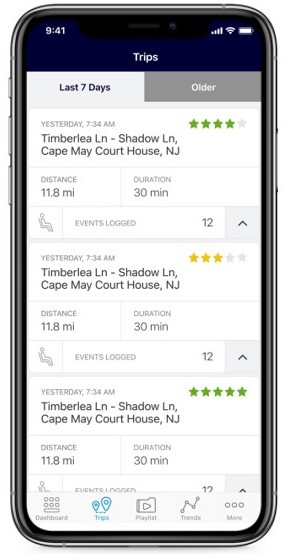 The Trips page will list the trips you have taken in the last seven days. For each trip, there will be a trip risk rating, the start location and end location, the total distance traveled during the trip, the total duration of the trip, and the total number of events logged during the trip. If you have EcoDrive, powered by Greater Than, you will also see an ECO rating that shows how your driving impacts the environment. Trips taken before the last seven days are not calculated in your FICO® Safe Driving Score but are available for review in the Older tab.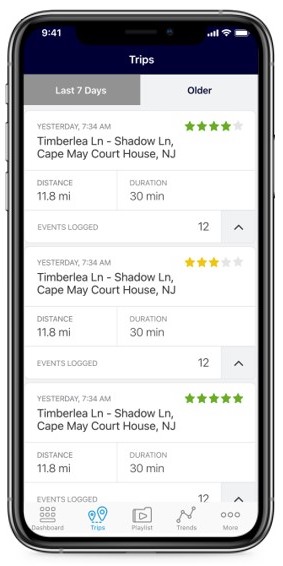 If you were not the driver for one of the trips taken or if your trip was taken outside of work, tap the icon next to the trip and choose Passenger or Personal in the pop-up window. You can also swipe left on the trip box to change the trip flag to Passenger or Personal. Trips marked as Passenger or Personal will be excluded from your overall FICO® Safe Driving Score. Once a trip is marked as Passenger, you will be unable to see the details of that trip.
If a trip was marked as Passenger or Personal by mistake, simply tap on either Personal or Passenger to unmark the trip and choose Driver again. If you want to change multiple trips at once, tap Edit in the upper right-hand corner of the Trips page. Tap the circle next to each of the trips you want to change. Finally, select the correct status from the gray bar at the bottom of the Trips page to change the selected trips to the correct designation.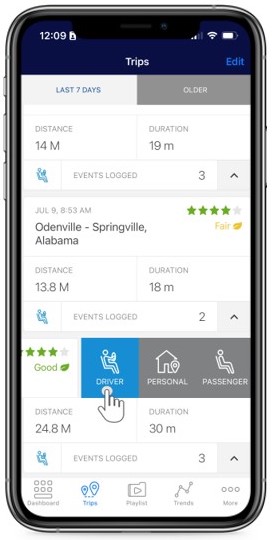 To see more details about a trip, tap on the particular trip. Here, you will be able to view a map of the trip route, along with the number of positive and negative driving events that occurred during the trip. Tap on Events Logged and then on specific events to see where and when the event occurred during your trip (see here for detailed steps on submitting a dispute).
Mentor captures events that increase your driving risks, including harsh Acceleration, harsh Braking, harsh Cornering, Distraction, and Speeding. In addition to negative events, Mentor also captures positive events, such as smooth turns, smooth Acceleration, and smooth Braking, which will appear in the list of events. Your score incorporates both positive and negative events to highlight your driving strengths and areas where you may need to improve.